Image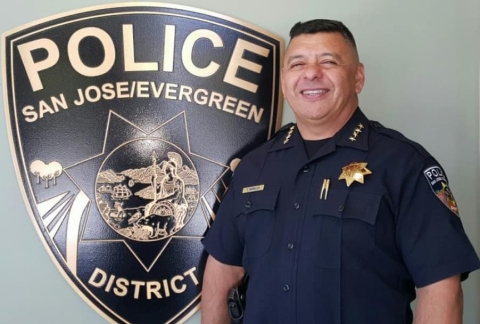 Welcome to the San José-Evergreen Community College District Police Department
The safety and well being of our students, faculty, staff and visitors is our number one priority. As members of the college community we support student success by sharing the responsibility of maintaining a safe and healthy learning environment.
A safe campus requires the efforts of the Police Department, but also the cooperation and understanding of the entire district and campus community.
Police officers are available seven days a week during class hours. Offenses, accidents or any emergencies that occur on campus should be reported immediately to the District Police.​​
FEATURED: Emergency Lockdown Doors
The upgrades for the emergency lockdown hardware is being completed District-wide. This hardware 
will be installed on doors of rooms that hold more than 5 people. This button will allow those behind the door to simply push the button 
and lock themselves securely inside the room in case of an emergency.
Please view the following video to familiarize yourself with the new emergency lockdown function.
Field Training Exercise
On January 17th, 2020, the SJECCD Police Department hosted one of the largest and most ambitious training exercises in the San José / Evergreen Community College District's history. This large scale training endeavor included the collaboration and cooperation of multiple local law enforcement and first responder agencies, as well as District faculty and staff members.
The first responder field training exercise was a monumental success and all the agencies who participated benefited from the experience greatly.