News
The San José – Evergreen Community College District has recently completed a long-awaited project in which all of our Automated Parking Pay Stations were replaced with new ones. You can find the new parking machines in each student lot at​ San José City College, Evergreen Valley College, as well as the SJCC​ Milpitas extension.
Image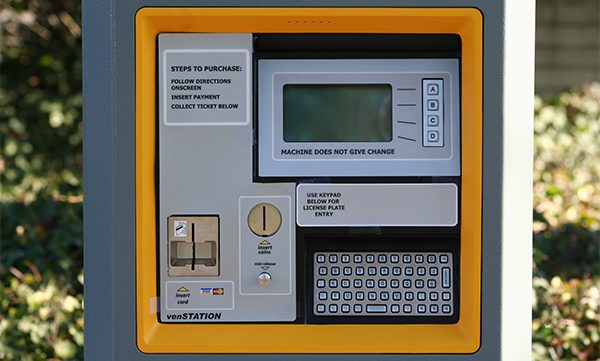 Parking Locations
Click the links below for a map of each campus as well as parking machine locations.
Payment Options
Permits can be obtained from any machine for a cost of $3.00. The machines will accept one dollar bills, coins, Mastercard, Visa, and Discover credit cards as well as coupon codes. Please note that change will not be provided.
To purchase a parking permit for a Semester or Intersession term login to SJECCD Single Sign-On (SSO) with your campus email and select Self-Service.  From the left, select User Options icon and select Parking Permit Request.
Parking Enforcement
Paid parking is enforced on all District Properties Monday through Friday from 7:00 AM to 11:00 PM, Saturday from 7:00AM to 3:00PM, except Sundays and holidays.
Payment for citations can be completed online via Pticket
Parking Policies and Regulations
The following regulations were established to facilitate parking and traffic while providing for the safety of all persons using the campuses of the SAN JOSÉ/EVERGREEN COMMUNITY COLLEGE DISTRICT (SJECCD) as authorized under provisions of the ​California Penal Code, the California Vehicle Code, the California Education Code and the City of San José Municipal Code.