​Safety on Campuses
Welcome to San José City College and Evergreen Valley College.
The San José-Evergreen Community College District strives to maintain an exceptionally safe environment for our students, staff, and visitors. The District provides a full service police department on both campuses. However, a truly safe campus can only be achieved through the cooperation of all students, faculty, and staff. This website is part of our effort to ensure that this collaboration is effective. Here you will find details of the services that you may call on and count on, and the information you need to do your part to help keep our campuses safe.
This website was prepared for you out of concern for your personal safety while you are on campus. You are always welcome to contact the District Police Department regarding your on-campus safety and security concerns.​
Blue Light Emergency Phones
At San José City College, Evergreen Valley College, and the Milpitas Extension campus you will find several blue phones located within each campus.
The phones may be identified by their signature bright blue light as well as emergency signage. 
 
The blue light phones serve as a way for anyone to quickly and easily report an emergency, suspicious activity, or request police services. 
 
Where can I find a blue light emergency phone?
Blue light phones can be found all across each campus. Typical places to find a blue light phone is in front of common areas, on campus grounds (tall blue pole with a blue light on top), wall mounted to the exterior and interior of some buildings, near parking areas and within parking structures. Furthermore, every elevator on campus is equipped with an emergency phone, which has the same functionality as a blue light phone. 
 
You can view the location of each emergency phone in the campus maps linked below:
How do I use the blue light emergency phones?
You can activate a blue light phone by pressing the "Call" button and listening for an operator response. If you are in an emergency situation where you cannot wait near the blue light phone for a response or you cannot speak, you can still press the call button and SJECCD PD will still be notified and dispatched to that location.
Image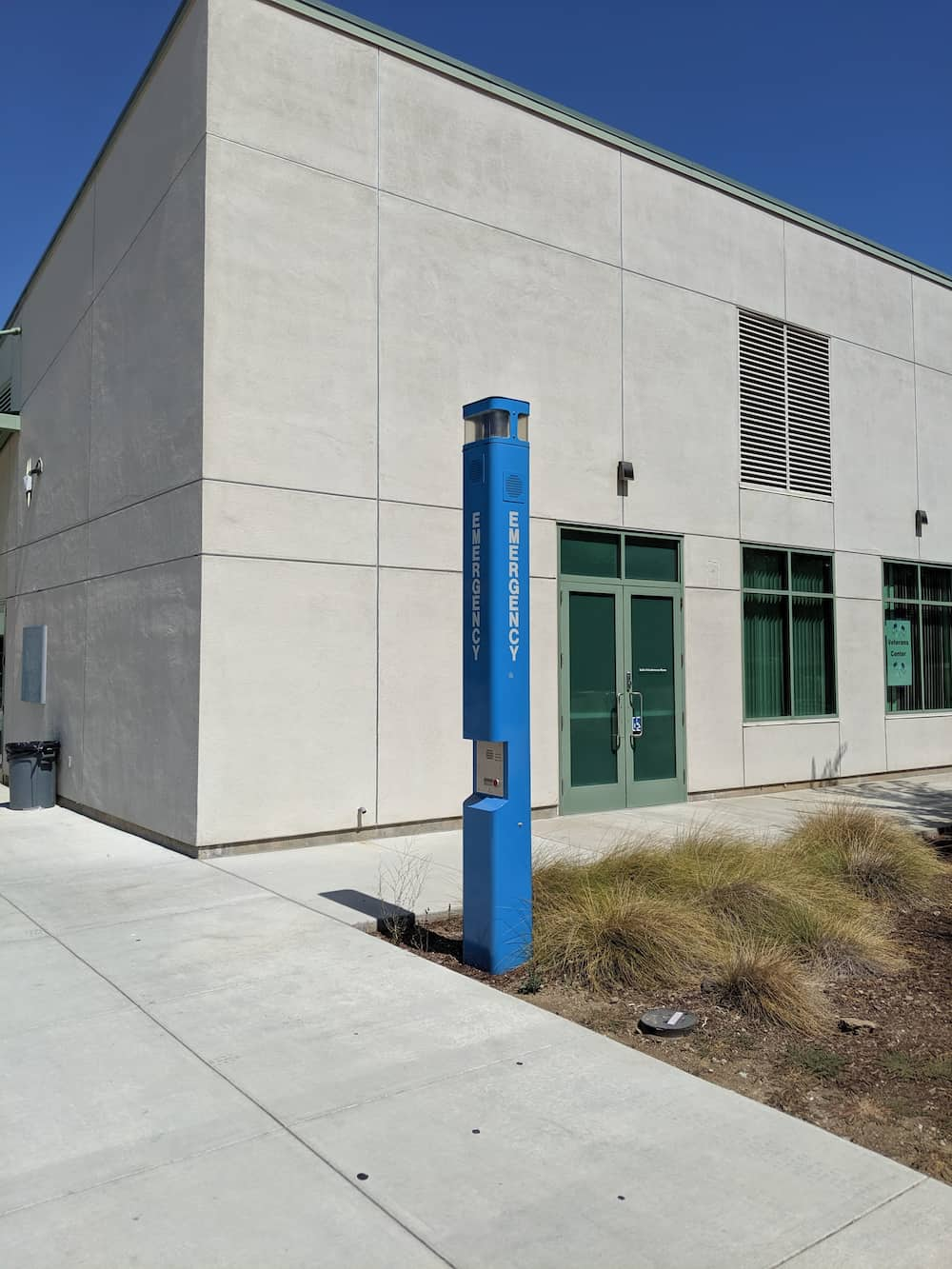 Be Alert With Crime Prevention Measures
Walk in pairs or groups; avoid isolation
Be alert; project confidence; look people in the eye
Stay in well-lit areas away from potential hiding places
Know where you are and where places of refuge are
If followed, go toward well-lit areas where there are people
Walk on the left, facing traffic, so vehicles can't easily approach you from behind
Wear clothing and shoes that enable you to move fast
Carry only lightweight objects
Wear or carry items like jewelry and cash that are minimal in value and don't attract attention
Avoid approaching strangers in vehicles for any reason
Carry a whistle or other noisemaker
If you think you are in trouble, do anything to attract attention – Scream! Break glass! Sound a horn!
Consider carrying pepper spray or other lawful self-defense equipment
Carry a cell phone
Develop and maintain excellent physical condition within individual age and health limitations
Well-maintained aerobic condition can serve you well if you are forced to run or fight for your safety
Learn self-defense/martial arts if so inclined.
Sexual Assault
The District strives to maintain a safe environment for students, staff, and visitors to pursue educational objectives. However, a truly safe and secure campus can only be achieved with thorough cooperation of all members of our college community.
The District is strongly committed to an educational environment free of sexual assault. The District will vigorously prosecute and discipline persons identified as responsible for sexual assaults. In addition to criminal prosecution, the District may impose discipline against students, student organizations, or District faculty or staff identified as committing or participating in sexual assaults.